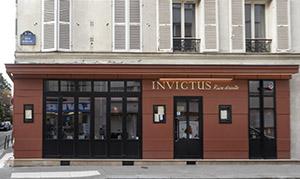 Invictus Rive Droite
posted December 02, 2019
98, rue Boileau
75016 Paris
Phone: 01.42.24.48.67
Metro Station: Porte de Saint-Cloud (Line 9)
Type of cuisine: French
Days & hours of operation: Tues to Sat noon - 2:00 p.m. and 7:00 p.m. - 10:00 p.m.
Credit card: Visa, Mastercard, American Express
We recently decided to make an excursion to a far corner of Paris to have lunch in a restaurant with an unusual name. Located at the intersection of rue Boileau and rue Parent de Rosen, the establishment displays a burnt sienna façade trimmed in black. The name of the restaurant "Invictus," with means "invincible" in Latin, is emblazoned in gold lettering over the door.
We entered and found ourselves in an attractive dining room where we immediately heard breezy jazz playing over the sound system. Tall, narrow windows rise to the ceiling, admitting ample natural light. The tables are adequately spaced and are draped in white tablecloths. A few framed works of art adorn the walls.
Apéritif
We each ordered a glass of Charles Ellner champagne, a crisp rosé with a fruity nose and fine fizz, that we greatly enjoyed.
The menu
The menu offers three starters, three main courses, and three desserts for 37€. Our attention, however, turned to the carte, where we spotted dishes that looked more interesting. Both the menu and carte are coded with curious little symbols that indicate which dishes are homemade (all, in fact, were coded with this symbol) and which ones contain potential allergens such as wheat, milk, and egg.
The starter
For the starter, I selected Tourteau entièrement décortiqué, lanières de courgettes et coriander. The waiter served a plate containing a rectangular prism of shredded crab flavored with coriander and bits of crabmeat. Moist and delicious, it was accompanied by paper-thin slices of zucchini arranged like a Tudor ruff and seasoned with red-berry vinaigrette.
The main course
Continuing with the seafood theme, I ordered Bouillon Thaï et gambas, vermicelles de riz et legumes croquants. The waiter produced a square-shaped bowl chock full of vegetables, enoki mushrooms, and vermicelli noodles, all resting in a broth of coconut milk and topped by four succulent jumbo prawns. Except for the bok choy (Chinese cabbage), which was cooked tender, all the vegetables were cooked firm to the bite. Coriander leaves garnished this immensely satisfying dish.
My partner opted for Sole meunière, a classic dish of pan-fried flatfish. She received an entire sole lightly browned and served with half a lemon, a large, stewed cherry tomato, a dollop of mashed potatoes flecked with parsley, and a side of wilted spinach. Although not as buttery as she had anticipated, the preparation of the fish was perfectly executed and she quite enjoyed this dish.
The bread
Diagonally-cut slices of fresh baguette were served alongside in a breadbasket.
The beverage
For the beverage accompaniment, my partner ordered a glass of Chablis 1er Cru, Fourchaume 2017, a white wine with yellow-green robe. Our server suggested the wine, even though it is not listed on the menu as one of the wines offered by the glass. Soft and round with a subtle nose, it went wonderfully with the sole.
The dessert
Spotting Soufflé au chocolat noir on the list of suggestions of the day, I sprang for that. The soufflé that I received was steaming hot, moist, and velvety. Like a mousse au chocolat, it exuded intense dark-chocolate flavor. Served with a scoop of vanilla ice cream and a madeleine, it was a decently delicious dessert.
My partner ordered Brioche perdue et pommes rôties, glace caramel beurre salé. She was served a small slice of brioche prepared in the manner of French toast and several wedges of cooked apple, all resting on a drizzle of caramel sauce. A scoop of caramel beurre salé ice cream was served alongside. While acknowledging that the dessert was well prepared, she expressed disappointment that the brioche did not taste as buttery as she had anticipated. In her opinion, a good pain perdu (French toast) should be cooked with a considerable amount of butter!
The bill
The bill for two, including two glasses of champagne, one glass of wine, one starter, two main courses, and two desserts, came to 136€.
The service
Both of our servers were friendly and accommodating. My partner especially appreciated the suggestion for the wine that accompanied her meal.
The ambiance
At lunchtime on this particular Saturday, the restaurant was only about one-quarter full.
The establishment is upscale, but not to the point where service is stilted. I thought that the décor was too restrained — modern art on the walls would have given more character to the space. We noted that one of the principal wall spaces is devoid of art. Given that the restaurant has only been open a couple of months, perhaps the proprietor has not yet finished decorating.
Travelers to Paris who seek thoughtfully-prepared French cuisine served in modern style will enjoy coming to Invictus Rive Droite to dine.