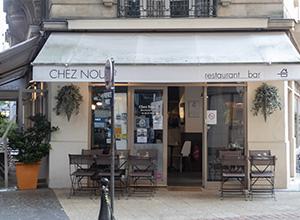 Chez Nous²
posted August 04, 2018
46, rue Balard
75015 Paris
Phone: 01.45.57.78.13
Metro Station: Lourmel (Line 8) or Javel (Line 10)
Type of cuisine: French and Italian
Days & hours of operation: Mon to Wed noon - 3:00 p.m. Thurs to Sat noon - 3:00 p.m. and 7:00 p.m. - 11:00 p.m. Sun 11:30 p.m. - 4:00 p.m.
Credit card: Visa, Mastercard, American Express
We took the line 10 metro across town to reach this restaurant. After dinner we strolled along the Seine River for a magnificent view of the Eiffel Tower and the Statue of Liberty.
The restaurant is located midway down rue Balard, between Rond Point du Pont Mirabeau and Place Balard. We stepped inside to view an eclectically-decorated, oddly-shaped dining room. A long bench with several articulated balanced-arm lamps affixed to its back serves as a room divider. The waitress, whom we assumed is the proprietor, approached us with a cheery disposition and invited us to sit next to a large window with a view of a courtyard. While we dined, the music of Halie Loren played over the sound system.
The menu
The restaurant offers a three-course fixed-price menu for 23€ at lunchtime. Since we were there in the evening, we ordered à la carte. We had our choice of four starters ranging in price from 8.50€ to 14.50€, five main courses ranging in price from 19€ to 26€, and three desserts ranging in price from 7€ to 12€.
The starter
For the starter, we each selected a Petite Piadina Traditionnelle, an Italian flatbread, folded in a manner that resembled a French crêpe, containing mozzarella cheese, roquette leaves, tomato slices, and thinly-sliced smoked ham. We were both pleased with this savory choice.
The main course
For the main course, I opted for a dish that I had never tried before: Marmande Farcie à la Carmarguaise cuite sur Riz Carmaguais. Marmande is a large tomato cultivated in the Nouvelle-Aquitaine region of France. It was served piping hot, stuffed with ground beef, pork sausage, and anchovy, all seasoned with Espelette pepper. Tasty like a succulent meatloaf, it was accompanied by a 4" diameter disk of tomato-sauce-flavored short-grain rice, a dollop of pesto, and a small, lightly-dressed spinach-leaf salad.
My partner opted for the Noix de Veau Jus à l'huile Truffée, Pommes Macaire, et Asperges. The waiter served a square plate containing two generous portions of veal filet cooked pink, a cylinder of Pommes Macaire (a baked dish made with potato pulp, parsley, diced zucchini, egg, and flour), tender, lightly-dressed spinach leaves, and two asparagus stalks. Superb!
The bread
Fresh, diagonally-sliced bread cut from a large loaf was served alongside in a bread basket.
The beverage
I ordered a locally-brewed blond beer called Gallia, served on tap. A mild-tasting brew, it was served chilled and was particularly refreshing on that very warm evening. Upon the recommendation of our server, my partner ordered Villa Cardini 2016 Bardolino, a soft, supple, light Italian red wine with a slightly peppery finish. It accompanied the piadina and the veal dish perfectly.
The dessert
I decided to order Billes de Cucurbitacées d'Eté et sa Sirop et Sablé just to see what I would get. The waiter brought me a square bowl containing a generous portion of honeydew melon and watermelon balls floating in a light sugar-syrup and garnished with two shortbread cookies. It was refreshing and delicious!
My partner selected the Crumble aux Abricots et Romarin frais, a substantial serving of coarsely-crumbled shortbread cookies topped with stewed apricots flavored with fresh rosemary. It was a satisfying finish to a fine meal!
The bill
The bill for two, including two wines, two beers, two starters, two main courses, and two desserts, came to 104.20€.
The service
The service was friendly and helpful. The chef came to our table to answer a question that my partner had about the preparation of the Pommes Macaire.
Travelers to Paris staying in the southwestern part of the city, or those who wish to take a stroll after dinner to view the Statue of Liberty with the Eiffel Tower as a backdrop, will enjoy coming to Chez Nous² to dine.