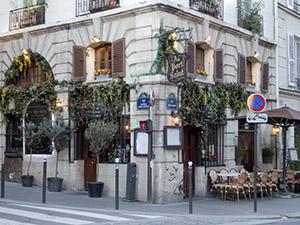 Le Port du Salut
posted May 14, 2018
2, rue des Fosses Saint-Jacques
75005 Paris
Phone: 01.46.33.63.21
Metro Station: Luxembourg (RER B)
Type of cuisine: French
Days & hours of operation: Open seven days a week with continuous service from noon to 11:00 p.m.
Credit card: Visa, MasterCard, American Express
Le Port du Salut is located in the Latin Quarter at the corner of rue des Fossés Saint-Jacques and rue Saint-Jacques. In the mid-twentieth century it was a popular cabaret where many French singers began their careers.
Inside, the restaurant exudes old-world charm, with exposed ceiling beams, bare-stone walls, a long wall bench covered in cranberry-colored velvet, wood tables and chairs, photographs of scenes from old-time movies, and a piano. Our waiter told us that musicians would make an appearance that night.
The restaurant offers a three-course "menu of the moment" for 24.50€ that includes four choices for the starter, four for the main course, and four for the dessert. We decided to order à la carte rather than from the menu, because the carte offers a wider range of choices.
For the starter, I selected Œuf cocotte, and received a ramekin containing a soft-boiled yolk set in scrambled egg flavored with ham, chopped button mushrooms, and foie gras. Garnished with a paper-thin slice of air-dried ham, it was a hearty, satisfying dish.
My partner ordered Duo de canard, a small mixed-green salad upon which rested slices of dried duck breast and compressed duck loaf. Sections of clementine and a single cherry tomato added counterpoint of color and flavor. It was a lovely way to begin the meal!
Spotting Saint Jacques déglacées en limoncello listed as a main course, I decided to try that. The waitress served a plate displaying a thick disk of quinoa upon which rested three large scallops and, similarly to the Duo de canard, three slices of clementine and a single cherry tomato. The succulent scallops had been deglazed in limoncello and were imbued with a delightful sweet lemon flavor.
For her main course, my partner requested Risotto aux champignons des bois and received a wide-brimmed shallow bowl containing a generous portion of risotto riddled with oyster mushrooms and flavored with truffle cream. It was a hearty dish, perfectly suited for that particularly chilly spring evening.
Fresh, thick-cut baguette with very large alveoli was served alongside in a basket.
For the wine accompaniment, I ordered a glass of Chablis Domain Massin 2012. Light-bodied with citrus notes, it went well with my main course. My partner ordered Percharment La Renaudie 2014, a balanced red wine with an aroma of stewed red fruits and a peppery finish. She enjoyed it with both her duck starter and the risotto main course.
For dessert, I ordered Tarte meringuée aux agrumes, a lemon-and-mandarin tart measuring roughly 4" in diameter. Topped with soft meringue and served with mandarin coulis, it was deliciously sweet and sour at the same time.
My partner opted for Brioche perdue, a roughly 1"-thick slice of pan-fried brioche prepared as French toast. Generously garnished with chopped nuts, mango coulis, a single scoop of French vanilla ice cream, and a large dollop of crème Chantilly, it lacked the buttery-rich flavor that would have made this an exceptional dessert.
The service was friendly and helpful. While we dined, jazz and blues, and then popular French songs, played over the sound system. At 8:30 p.m. a guitarist and singer stood at the piano and regaled the diners with a fine performance of old-time French standards.
The bill for two, including three glasses of wine, two starters, two main courses, and two desserts came to 118€.
Travelers to Paris will enjoy coming to the Latin Quarter to dine in this authentic Paris bistrot. The cabaret-style performance in the evening will leave them with fond memories of their stay in the French capital.