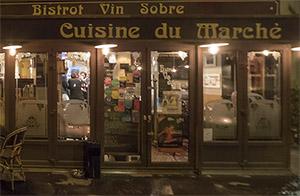 Le Vin Sobre
posted March 19, 2018
26, rue des Feuillantines 75005 Paris
75005 Paris
Phone: 01.43.29.00.23
Metro Station: Luxembourg (RER B – rue de l'Abée de l'Epée exit)
Type of cuisine: French
Days & hours of operation: Mon to Sat noon - 3:00 p.m. and 7:30 p.m. - 10:30 p.m.
Credit card: Visa, Mastercard
Hearty neighborhood bistrot fare in the Val de Grâce quarter
Le Vin Sobre stands at the intersection of rue des Feuillantines and rue Saint-Jacques. It is about a five-minute walk from Val de Grâce, one of the most important religious monuments of 17th-century France. As the bistrot itself is not very spacious, its sidewalk terrace has been enclosed to provide additional space for dining. That is where we were seated when we entered to dine on a recent Friday evening.
The menu
The menu is brought to the table on a large slate. It lists six starters ranging in price from 8.80€ to 11.80€; eight main courses ranging in price from 19€ to 78€ (a beefsteak for two persons); and seven desserts ranging in price from 10€ to 12€. The menu proudly declares that the fare is house made and that meat comes from the Limousin region of France.
The starter
For the starter, I ordered Rillettes de maquereaux maison, toasts, a generous serving of three dollops of minced mackerel sprinkled with chopped red onion and garnished with finely-diced red bell pepper and cucumber. Three slices of country-bread toast were served alongside. This was a hearty dish and would have been sufficient at lunchtime as a meal in itself.
My partner selected Velouté de topinambour, a deep bowl of cream of Jerusalem artichoke soup. She enjoyed eating it with chunks of fresh sourdough bread that she added to her bowl.
The main course
I opted for Saint Jacques en cocque, purée au citron and received a large platter containing five scallops on the half shell arranged around a small bowl of lemon-flavored, creamy, puréed potato. Frothy emulsion covered the scallops — each had been cooked in salty butter. I delighted in prying each scallop away from its shell and popping it into my mouth. It was a rich, delicious dish!
My partner chose Blanquette de veau à l'ancienne, riz, a dish of veal stew smothered in white gravy and served with chunks of carrot, sliced button mushrooms, and basmati rice dotted with finely chopped chives. This classic preparation was the perfect meal for that cold and damp spring evening.
The bread
Fresh, thick-sliced sourdough French bread with crispy crust was served alongside in a bread basket.
The beverage
My partner selected Ginglinger-Fix 2015, a Pinot Noir from Alsace. Light and fruity with a note of licorice, it went well with both courses of her meal.
The dessert
For dessert, I ordered TarteTatin, a French, upside-down apple-pie specialty. I have noted in previous reviews that I didn't find Tarte Tatin to be as sweet as I would prefer and now realize that that is simply the way the French prepare it. It was a generous portion, about 5" in diameter and ¾" thick. Often this tart is served with a sour cream garnish, but that wasn't the case on this particular evening.
My partner settled for Brioche façon pain perdu, a slice of brioche measuring 3½" x 3" x ¾" prepared French-toast style. It was served with a generous dollop of crème Chantilly and a scoop of rich caramel ice cream. She was somewhat disappointed in this dessert, declaring that the brioche was too moist and not buttery enough. However, she found the rich caramel ice cream to be delectable.
The bill
The bill for two, including two starters, two main courses, two desserts, and two glasses of wine, came to 100.80€.
The service
The service was friendly and efficient. We waited a considerable length of time for the preparation of our desserts, but I realized, when it was finally served, that my Tarte Tatin had been individually prepared in the kitchen. In other words, it wasn't a portion that had been sliced from a larger pie that had been prepared in advance.
The ambiance
Miles-Davis-style free jazz played over the sound system while we dined. By 8:30 p.m. the restaurant was almost full of Francophone diners. Conversation was quite noisy (there are no curtains or carpets to absorb the sounds).
Travelers to Paris seeking an authentic French dining experience will find it here at Le Vin Sobre. We were the only Anglophones dining there that evening. Everyone around us was French!