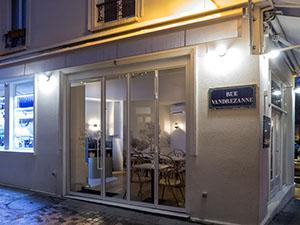 Chez Nathalie
posted March 12, 2018
45, rue Vandrezanne
75013 Paris
Phone: 01.45.80.20.42
Metro Station: Place d'Italie (Lines 5, 6, and 7)
Type of cuisine: French
Days & hours of operation: Mon to Sat noon - 2:30 p.m. and 7:00 p.m. - 11:00 p.m. Sun 10:00 a.m. - 3:00 p.m.
Credit card: Visa, Mastercard, American Express
Delicious house-made fare near Place d'Italie
Chez Nathalie stands on the sharp-pointed intersection of rue Vandrezanne and rue du Moulin des Prés, just a five-minute walk from place d'Italie.
The modern dining room is sparsely decorated, with off-white walls, white-marble table tops, and a wallpaper country scene on one of the walls. While we dined, jazz played over the sound system.
Apéritif
In a celebratory mood, we each ordered a glass of Huguenot-Tassin Cuvée Signature champagne. Its citrus flavor was fresh and light with fine fizz.
The menu
All food served here is house made. There is no fixed-price menu. À la carte fare consists of three hors d'œuvres, three starters, five main courses, and five desserts, one of which is a cheese plate. The carte displays the "fait maison" logo, a symbol of freshness and quality.
The starter
I never expect much when I order a salad, but the one called Pousses d'épinards frais that I ordered here was exceptional. Served with slices of raw haddock and garnished with ponzu yuzu vinaigrette and black sesame seeds, its baby spinach leaves were tender, ultra-fresh, and appetizing.
My partner opted for Velouté de lentils and received a shallow bowl containing light, coarsely-puréed lentil soup generously sprinkled with black sesame seeds and perfumed with coconut milk. A thin slice of pork fat floating in the middle added flavor.
The main course
For the main course, I selected Dos de lieu jaune, brocolis sauvages, a thick-cut slice of tender pollock lying on a bed of wild broccoli. The broccoli, resting in a pond of lemongrass-flavored vinaigrette, was stringy and difficult to cut, but it had wonderful flavor.
My partner ordered Sauté d'agneau fondant and received a copious, North-African-inspired dish of chunks of lamb, finely-milled couscous, and coarsely-cut carrot. She quite enjoyed this dish!
The bread
Thick-cut slices of fresh baguette were served alongside in a bread bag.
The beverage
Following the waitress' suggestion, my partner ordered a glass of Côteaux du Languedoc 2016 - Voiles Latines, a smooth, spicy red wine, to accompany her main course.
The dessert
Délice au chocolate was my choice for dessert. I received a thick disk of rich, moist, dense dark-chocolate cake resting in a pool of salty caramel sauce. It was decadently delicious!
My partner's choice was Brioche façon pain perdu. She was served a slice of pan-fried, buttery, melt-in-the-mouth-tender brioche topped with poached pear and white sesame seeds. Resting in a pond of sweet syrup, it was an exquisite finish to a fine meal.
The bill
The bill for two, including two glasses of champagne, one glass of wine, two starters, two main courses, and two desserts, came to 103€.
The service
The service was friendly and efficient. There was only one server on duty in this small restaurant, but she accommodated customers quite well.
The ambiance
By 8:30 p.m. the restaurant was full of customers. As there are no curtains or carpets to absorb echoes, the resonance from loud conversation became distracting.
Travelers to Paris seeking freshly-prepared French fare seasoned with Asian-inspired spices will enjoy dining here.